Euro 2016: Portugal arrive home victorious
Comments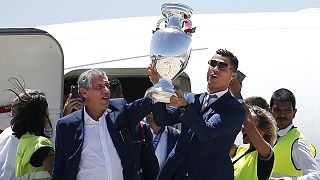 It's been a long time coming and, thanks to disgraced former UEFA President Michel Platini's new 24-team tournament format, Portugal have arrived home winners of Euro 2016.
It wasn't a dream, Portugal...#EURO2016pic.twitter.com/zi1cEqg9Ko

— UEFA EURO 2016 (@UEFAEURO) July 11, 2016
They beat hosts France 1-0 with substitute striker Eder undoubtedly the hero of the match.
He delivered the fatal blow to Didier Deschamps' team with just eleven minutes of extra time remaining.
A star was born at #EURO2016pic.twitter.com/9W8smqUvWl

— UEFA EURO 2016 (@UEFAEURO) July 10, 2016
Portuguese President Marcelo Rebelo de Sousa welcomed the squad in Lisbon.
"They're the best in Europe, thanks to their skill, working ability, intelligence, endurance, unity and humility… Because football is a collective sport," he told the press.
Portugal certainly proved that. The loss of their star player, Cristiano Ronaldo, part way through the first half only seemed to make them more determined to win.
Some critics maintain the team was less constrained with him on the bench.
Fans overjoyed
The Portuguese fans are, naturally, ecstatic with the Reds' first major tournament win.
"After the birth of my daughter and starting my family, this is the most beautiful moment of my life," said one woman.
It's a sentiment shared by many across Portugal, especially after their crushing defeat at home in the final of Euro 2004.
Celebrations in the capital and throughout the country, are likely to continue for a long while to come.