Hollande greets France squad at Elysee Palace
Comments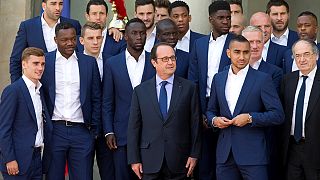 Their Euro 2016 dreams may have been shattered, but the French football team were still greeted as heroes by President Francois Hollande at the Elysee Palace on Monday.
Less than 24 hours after being stunned by Portugal's extra-time sucker punch, Didier Deschamps' side, including the tournament's Golden Boot winner Antoine Griezmann, were being given the red carpet treatment at the President's official residence in Paris.
The original plan, of course, had been for the squad to present its third European Championship and third major footballing triumph won on home soil – but despite falling short, the French players were still able to smile.