Iraqi PM sacks top Baghdad security officials after bombing
Comments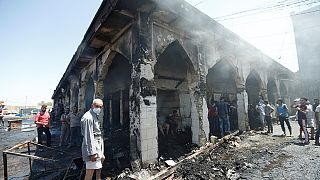 Iraq's prime minister has fired three officials in charge of Baghdad's security after a spate of deadly bombings.
The worst came last weekend but Thursday brought yet another atrocity: at least 37 people killed in a triple suicide attack on a Shi'ite target north of the capital.
The so-called Islamic State has reportedly claimed it.
Friday prayers which should have marked celebrations for Eid, were instead plunged into sadness.
Such is the respect for Iraq's top Shi'ite cleric that when his spokesman addressed the worshippers, he was almost obscured by a mountain of microphones.
No doubt echoing the thoughts of Grand Ayatollah Ali al-Sistani, the official castigated the security forces for failing to prevent attacks.
''If (the authorities) we won't live up to their responsibilities and put an end to such security violations, the terrorists will continue committing crimes against Iraqi people,'' said the spokesman, Ahmed al-Safi.
Last weekend's bomb in Baghdad killed nearly 300 people and caused public outrage over the inadequacy of emergency services and the security apparatus.
Iraq's Prime Minister Haider al-Abadi was abused when he visited the area hours after the car bombing.
He now says he has sacked the commanders of military operations, the security services and intelligence in the capital.
One senior official said "accumulated mistakes" could not be overlooked.