'We don't seek confrontation' - NATO on new deployment
Comments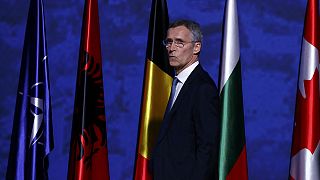 NATO leaders at their summit in Warsaw have agreed to deploy multinational forces in the Baltic states and Poland to deter potential Russian aggression.
The western military alliance is to send four battalions on a rotating basis, to be in place starting next year.
Britain's Ministry of Defence announced that it was to send 650 troops: 500 to Estonia and 150 to Poland.
The summit's aim: to reassure countries in the region that NATO is ready to defend them – while trying to avoid antagonising Moscow.
"We have decided to enhance our military presence in the Eastern part of the Alliance… and I am pleased to announce that Canada will be the framework nation for Latvia, Germany will lead the battalion in Lithuania, the United Kingdom will lead in Estonia and United States will serve as a framework nation in Poland," NATO Secretary-General Jens Stoltenberg told a news conference.
In a message to Russia, the NATO chief said the alliance did not threaten any country and did not want another Cold War.
"We do not seek confrontation. We continue to seek a constructive dialogue with Russia. Russia is our biggest neighbour, it is a permanent member of the United Nations Security Council and it plays an important role in security challenges in and around Europe," he added.
The Baltic states and Poland fear Russia will seek to destabilise their pro-Western governments.
As the summit got underway the Kremlin said talk of a threat from Russia was absurd, adding that it hoped "common sense" would prevail and that it remained open to dialogue with NATO.