May and Leadsom make shortlist to become UK's next Prime Minister
Comments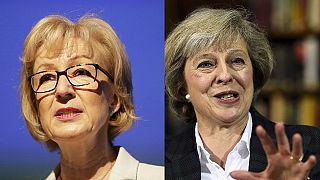 Going head-to-head Home Secretary Theresa May and junior Energy Minister Andrea Leadsom will be battling it out to become the UK's second female prime minister, after Justice Minister Michael Gove won just 46 votes in the Tory leadership contest.
May came out ahead with 199 votes. Surrounded by party faithful, she told the gathered press:
"This vote shows that the Conservative Party can come together and under my leadership it will. We need proven leadership to negotiate the best deal for leaving the European Union, to unite our party and our country and to make Britain a country that works not for the privileged few but for everyone.
Leadsom made the shortlist with 84 votes. After the ballot she told reporters, "I'm delighted, feeling very positive; absolutely delighted, very grateful to my team. Theresa's (May) obviously done fantastically well and you know my commiserations to Michael (Gove), but I'm absolutely delighted with the result, thank you."
Whoever replaces David Cameron will have to unite a fractured party and steer a divided country through tough negotiations as it cuts ties with the European Union.
While May was a lukewarm Remain campaigner, eurosceptic Leadsom enjoys support from many in the Conservative party who campaigned to leave the EU.