May and Leadsom go head to head for leadership of British Conservatives
Comments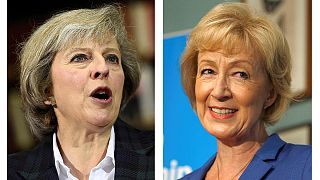 The Conservative parliamentary party has whittled down the leadership contenders to just two. Now their official campaign begins as they look to convince the 150,000 Tory party members around the country.
Whoever wins, the party will have a new female leader, and the country will have its second woman prime minister.
"And I was really pleased yesterday with the level of support I got from my parliamentary colleagues and support from colleagues from both sides of the party, right and left, from Remainers and Leavers and from all parts of the country. And I'm going out now to the country to the vote of the membership, to put my case forward for proven leadership to get the best deal out of Brexit, to unite the party and the country and crucially to make Britain a country that works for everyone," said frontrunner Theresa May.
While Interior Minister Theresa May is the hot favourite Andrea Leadsom, a Brexiteer, hopes to capitalise on the current mood and will attack May on her record on immigration, which her critics say has been too welcoming.
"I think there's a huge job to be done to try to unify the country. I mean it's been a very turbulent time. I think a lot of people are quite concerned and we really do need to provide reassurance but at the same time get a grip on the big opportunities that lie ahead so yes, it's certainly my aim and my intention to do exactly that," she said.
However Leadsom is under fire for certain policy statements made since Brexit that one Tory grandee called "stupid", and concerns she may have been less than truthful with her CV.
This has been seized on by some online wags:
Andrea Leadsom releases full CV.#Rally4Leadsom
(done for huffpostukcom</a>)<a href="https://t.co/NtCf21F19s">pic.twitter.com/NtCf21F19s</a></p>&mdash; David Schneider (davidschneider) July 7, 2016