In Warsaw NATO hopes to show unity after Brexit
Comments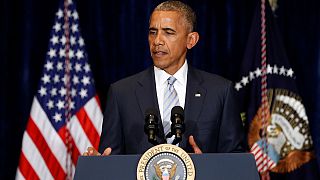 Warsaw is a symbolic host city, it will see NATO's first summit to be held in Poland, and it is being described as the most important alliance meeting since the end of the Cold War. The gathering has taken on even more significance in the aftermath of Brexit, with the alliance hoping to make a show of Western unity.
On the streets of the Polish city, people are aware of the summit's seriousness. Taking the temperature ahead of the summit our reporter spoke to locals. One resident said,"It's an important meeting. The leaders have to decide how to improve the defence of Poland and Eastern borders of Europe."
Another man spoke of his concern about the Russian President in light of his actions in neighbouring Ukraine. "There is a great threat coming from Putin. What happened to Ukraine may happen to Poland also. It's the same threat."
After Russia annexed Crimea from Ukraine in 2014, Moscow has been conducting military exercises on Europe's eastern fringes. The transatlantic alliance is expected to sign off on a new force in the Baltic, aimed promoting peace by deterring Moscow.
Michal Baranowsky from the German Marshall Fund told our reporter that "NATO will decide to increase presence of forces on it's Eastern flank. And the clear expectation is about four thousand troops rotating through the Baltic states and Poland but on constant basis."
The Kremlin says that NATO is the aggressor by moving forces onto former Soviet territory which it considers within its sphere of influence.
Euronews reporter Andrei Beketov sums up:
"NATO countries are feeling a threat from Russia. On the agenda of the summit are measures not only of deterrence, but also of collective defence. A Moscow envoy has already described them as threat to peace in Europe."