Dallas police shootings: eyewitnesses describe horror
Comments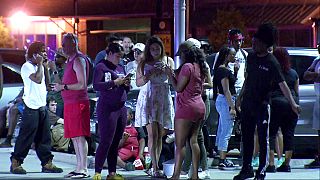 Downtown Dallas remained under heavy police lockdown following the multiple shootings which left at least five law enforcement officers dead.
Dallas' mayor Mike Rawlings said a dozen police officers and two civilians were shot during the coordinated attack, which took place during a protest against the killing of two black men by police a few days earlier.
For the moment, the motive for the strike remains unclear.
Expressing shock and disbelief, some eyewitness described the moment of the attack.
"Off to the left, which is like three blocks from the courthouse, they just started going off. I mean, pow, pow, pow, pow, pow. And then everybody started running, everywhere. While we were leaving we heard the automatic fire. The back-to-back fire. It just was wild. Everybody was running everywhere. All the people were running around with their hands up," one man said.
"I'm born and raised in Dallas and I think the biggest thing that we've had something like this is when JFK died. It's like, shut the city down, downtown like this, it's surreal to me. I can't believe it," said another woman.
Police have also confirmed no explosives have been found following primary and secondary sweeps of the city centre, after one suspect said multiple devices had been planted.