US Independence Day celebrated under heightened security
Comments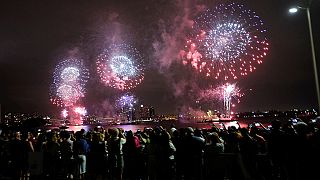 Firework displays have been held throughout the US to mark Independence Day.
Happy Fourth of July. pic.twitter.com/AQHiti7Yye

— Barack Obama (@BarackObama) July 4, 2016
At the White House, the festivities were doubled; the president's eldest daughter Malia celebrated her 18th birthday on July 4, 2016. It was their last Independence Day as the first family. President Barack Obama will relinquish his role in January.
"It's important to remember what a miracle this country is. How incredible — how incredibly lucky we are that people, generations ago, were willing to take up arms and fight for our freedom."
Happy Fourth of July, everybody! And to our brave men and women in uniform: On this day and every day, we thank you.

— President Obama (@POTUS) July 4, 2016
Fun was had at concerts and events across the country.
But with a wave of attacks worldwide, including the recent mass shooting in Orlando, Florida, festivities were held under maximum visible security.