May leads field as UK Conservatives vote for Cameron successor, but Fox fails
Comments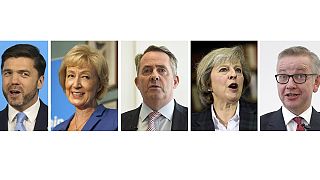 British Conservative MPs have begun the lengthy process of selecting David Cameron's successor with a first round of voting.
Home Secretary Theresa May is the frontrunner in a field of five candidates who all made their case to Tory parliamentarians in hustings on Tuesday as the latest chapter of the Brexit drama unfolded. May won the votes of 165 Tory MPs in the first round ballot.
Andrea Leadsom, considered the second favourite, collected 66 Tory MP votes. She was on the same side as Michael Gove in the referendum, and ahead of voting appeared to have overtaken the justice minister in the battle to woo right-wing MPs.
Gove himself came third behind May and Leadsom with 48 votes, while Pensions Minister Stephen Crabb, who only won the support of 34 MPs, has pulled out of the race and endorsed Theresa May.
Liam Fox has been eliminated from the race after the first round of voting after just 16 Tories backed his leadership bid. Others might choose to withdraw if they poll poorly over the coming weeks and months.
On Tuesday a Conservative heavyweight and top minister in the Thatcher, Major and Cameron governments, Ken Clarke, was caught on film making some unguarded comments to another former Tory minister Sir Malcolm Rifkind on British television about the quality of the candidates.
A second round is scheduled for Thursday after which a final two go forward for a showdown in September.
Cameron stood down after losing the late June plebiscite on continued EU membership, and the country has been gripped by political instability since.