Israel ripostes against families of Palestinian knife attackers
Comments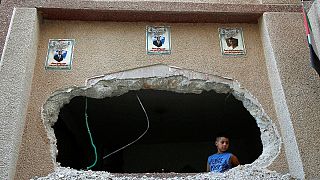 The Israeli army has moved in to arrest two brothers of the attacker who stabbed a 13-year-old girl to death in her bedroom last week. The 20-year-old assailant was shot dead in the following police operation.
It was the latest in a string of attacks by Palestinians armed with knives on Israelis around the country as the government continues to announce the building of new homes
for Jewish settlers on land international law says Israel occupies illegally.
The army has also demolished the homes of the families of two Palestinians who fatally stabbed an Israeli near Jerusalem's Old City in December.
Eight hundred housing units will be built in and around mainly Arab East Jerusalem, with another 600 reportedly to be built for Palestinians in an Arab neighbourhood of the city, a decision that has drawn criticism from the Israeli right.
Israel claims the entire city as its capital, while the Palestinians claim the East of the city as theirs. Palestinian leaders accuse Israel of following a policy of changing the ethnic makeup of key districts, either through land purchases, seizures, or the addition of new developments for Jews only.