Israel approves new West Bank settlements amid surge in Palestinian violence
Comments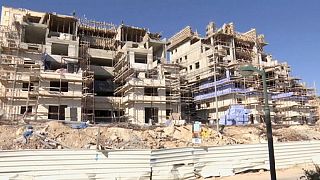 Israel plans to expand a settlement in the West Bank where a teenage girl was stabbed to death just last week.
The move comes despite international pleas for it to stop construction in the occupied territory, amid of surge in deadly attacks by Palestinians.
Israel approved 42 new housing units in the settlement of Kiryat Arba, where a Palestinian fatally stabbed a 13-year-old girl inside her home on Thursday (June 30) before guards shot him dead.
Israeli Defence Minister Avigdor Lieberman said it would send the message that every attack would only strengthen Israeli settlements.
The surge in violence also prompted Israel to send hundreds of troops to the area over the weekend and impose a closure on the Hebron district, where many of the recent attacks originated.
Israeli Prime Minister Benjamin Netanyahu held an emergency cabinet on the topic.
"We are in an ongoing struggle against terror," he said.
"There have been ups and downs in this struggle. We are using many different measures, including resolute ones we have not used in the past. These include a closure on the Hebron district – 700,000 people – and revoking all working permits in the village of Bani Naim, where six attackers came from"
Israeli authorities sealed off the city of Hebron after a Palestinian gunman killed one Israeli man and wounded his wife and two children. The lockdown is Israel's biggest military move in the West Bank in two years.