25km-long traffic queue between Hungary and Austria
Comments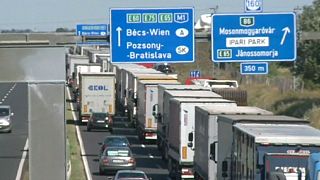 A line of lorries more than 25 km long has formed on Hungary's border with Austria.
The hold-up is due to ad-hoc checks by the Austrian authorities, who have strengthened measures to curb the flow of migrants into the country.
Eyewitnesses estimated waiting time at the border to be four hours on Sunday night – it was up to 8 hours according to some reports on Monday.