Turkish ship arrives in Israel with aid for Gaza
Comments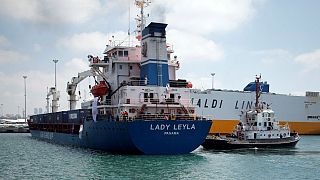 A week on from restoring ties, a Turkish ship has arrived in Israel with 10,000 tons of humanitarian aid bound for Gaza.
The "Lady Leyla" is carrying food, toys and clothes to hand out before the start of of Eid al-Fitr, one of Islam's major holidays.
The two countries broke off ties six years ago when an Israeli naval raid killed nine Turks on board an aid ship trying to breach Israel's blockade of the Hamas-controlled Gaza Strip.
Under their agreement reached Israel is to pay 18 million euros to the families of the killed activists.