Suspected Islamic State militants in court over Istanbul airport bombing
Comments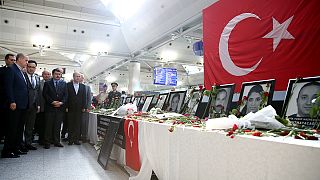 In Turkey, at least 13 people, mainly foreigners, have appeared in court over Tuesday night's deadly attack on Istanbul airport.
44 people were killed and more than 200 others hurt in the gun and bomb attack on one of the world's busiest transit hubs.
Authorities have identified two Russians as suspected Islamic State suicide bombers. The operation is thought to have been masterminded by a Chechen, aided by militants from Kyrgyzstan and Uzbekistan.
According to Turkish media they relied on Islamic State cells in Turkey for logistical support.
Visiting the site on Saturday, Turkey's President Recep Tayyip Erdogan said at least 44 people had been detained in relation to the attack.