Istanbul airport attack: the suspects and the victims
Comments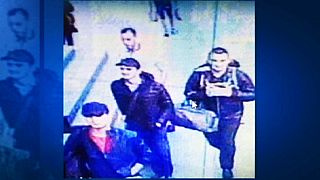 Turkish media have released images purporting to show three of the Istanbul airport attackers minutes before they opened fire, killing at least 44 people and wounding more than 200.
According to a government official, the suicide bombers were from Russia, Uzbekistan and Kyrgyzstan.
Chilling CCTV footage showed one of the attackers shooting down an undercover police officer who had approached him.
More footage showed panicked crowds running across the airport after hearing gunshots — and one assailant who came in to find the check-in terminal empty apparently throwing his rifle on the ground in frustration.
CCTV footage shows attacker shooting police officer at Istanbul Ataturk airport pic.twitter.com/DAAjzbyaM5

— Press TV (@PressTV) June 30, 2016
watch :CCTV footage has caught one of the attackers at Istanbul Ataturk Airport smashing his rifle on the floor https://t.co/TsywBuGvnO

— Otto (@ottoclinton) July 1, 2016
Turkey said evidence pointed towards the Islamic State militant group. Police carried out raids across Istanbul and arrested at least thirteen people in connection with the attack, including three foreigners, according to the interior minister.
The pro-government Yeni Safak newspaper reported that the mastermind of the attack was from the small republic of Chechnya.
On Thursday, a memorial was held at Ataturk airport. At least 24 Turks and 20 foreigners died in Tuesday's attack.
Two Palestinian women and a three year-old boy were among those killed. Other foreign victims include Saudis, Iraqis and citizens from China, Jordan, Tunisia, Uzbekistan, Iran and Ukraine.