Bangladesh mourns after suspected Islamist militants storm upmarket cafe in the capital
Comments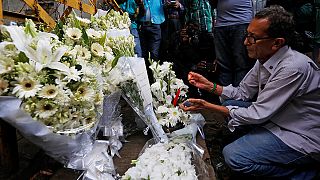 Bangladesh has begun two days of mourning after suspectic Islamist militants stormed an upmarket restaurant in the capital, Dhaka.
20 people, mostly foreigners, were killed when seven militants raided the building in the diplomatic zone later on Friday.
It's now emerged that police had tried to arrest five of them before over links with external networks. The claims have not been confirmed but Bangladesh's Home Minister Asaduzzaman Khan said neither Islamic State nor al Qaeda was involved. He also reiterated that home-grown militants were responsible for a spate of killings in the country over the past 18 months.
"We were looking at five of the six militants before the incident," national police chief Shahidu Hoque told reporters. "We have tightened up security and will implement a plan we've discussed with all the high officials of the concerned security forces."
Authorities believe the attack was carried out by the Jamaat-ul-Mujahideen Bangladesh (JMB), which claims to represent Islamic State in Bangladesh.
The so-called Islamic State says it was behind the siege; in itself a major escalation in violence by militants. Previous attacks have mostly singled out individuals advocating a secular or liberal lifestyle, or religious minorities.