Italy mourns at least nine nationals killed in Bangladesh terror attack
Comments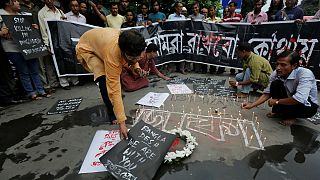 Italy is mourning nine of its nationals killed in Friday's militant attack on a café in the Bangladeshi capital Dhaka. A tenth is unaccounted for.
Several were business people working in the textile industry. One was said to have been five months pregnant.
They were identified as Adele Puglisi, Marco Tondat, Claudia Maria D'Antona, Nadia Benedetti, Vincenzo D'Allestro, Maria Rivoli, Cristian Rossi, Claudio Cappelli and Simona Monti.
Twenty people were killed in the attack, carried out in the name of political Islam.
Mostly foreigners, they also included seven Japanese aid workers and an American.
An army spokesman said the victims had been "brutally" attacked with sharp weapons after being singled out.
"The whole of Italy feels sympathy with the families of the victims, with great solidarity. And terrorism with its barbarity represents today the main danger for the world. A common commitment is needed, from all of us," said Italy's President Sergio Mattarella, who returned to the country from Mexico following the attack.
Flags in Rome flew at half mast as the country digested the horror of the attack.
Bangladeshi commandos raided the complex after a 12-hour siege, rescuing 13 people and killing six militants, arresting another.
Responsibility for the attack was claimed by the so-called Islamic State group.