Istanbul attack: Ataturk remembers its fallen colleagues
Comments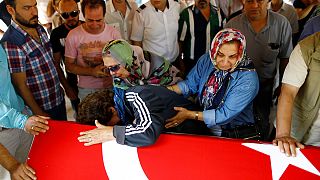 A makeshift memorial has taken place in Istanbul's Ataturk Airport to pay tribute to 15 employees killed in Tuesday's (June 28) attack.
A moment of silence, a prayer and a memorial for some of the victims of #Istanbul#AtaturkAttack#Turkeypic.twitter.com/UpASwbrPpV

— jomana karadsheh (@JomanaCNN) June 30, 2016
At least 24 Turks and 20 foreign nationals were killed, among them three Saudis, two Iraqis and Palestinians and one citizen each from China, Jordan, Tunisia, Uzbekistan, Iran and Ukraine.
At the airport taxi rank, a small vigil was also set up by local drivers to remember two colleagues who died.
Funerals began to take place on Wednesday (June 29). Of the five people buried, four were members of the same family.
#Turkey Funerals two days after Istanbul's #AtaturkAttack airport #AFP Photo by @ozannkoseepic.twitter.com/WtiqmUJhCX

— Aurelia BAILLY (@AureliaBAILLY) June 30, 2016
Outside the terminal members of the Patriotic Party – a left-wing opposition group – protested against terrorism and called for Turkey's political factions to work together to defeat it.
In the aftermath of the attack, the main opposition CHP party has accused the ruling AKP of blocking an attempt to begin a parliamentary investigation into events. It has accused the governing party of having "ideological links" to ISIL.