Philippines: Rodrigo Duterte sworn in as president
Comments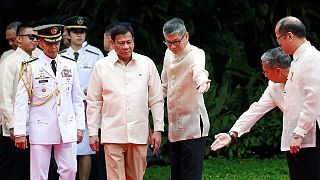 The Philippines has a new president after Rodrigo Duterte was sworn in during a ceremony in Manila following his resounding election victory in May.
Known for his controversial methods, the 71-year-old former Mayor of Davao City has promised to bring back the death penalty.
During his inaugural speech in the capital, Duterte vowed a 'relentless' and 'sustained' battle against crime and corruption.
"I know that there are those who do not approve of my methods of fighting criminality, the sale and use of illegal drugs and corruption; they say my methods are unorthodox and verge on the illegal"
Nicknamed 'The Punisher', Duterte begins a six-year term in office, and replaces outgoing president Benigno Aquino.
Despite drastically cutting crime during his 22-year reign as mayor of Davao, his maverick methods and extrajudicial killings of suspected criminals have alarmed human rights groups and the powerful Roman Catholic Church.