Hungary's football team returns as heroes
Comments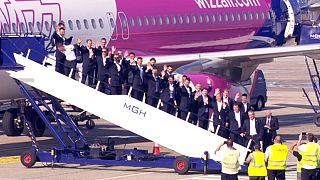 The Hungarian football team was given a heroes' welcome by hundreds of supporters on Monday when they flew home to Budapest after taking part in the Euro 2016 football tournament.
A picture about the enthusiastic crowd in Heroes' Square in #Budapest celebrating #Hungary's national football team pic.twitter.com/KJA5YpFtkl

— Leto مؤدّب (@politicshungary) June 27, 2016
Qualifying for the event – their first European Championship in over 40 years – was an achievement in itself, but the fact that the players ended up topping their group and reaching the knock out round went far beyond most expectations.
Zoltán Gera, one of the players was delighted by the reception:
"We are happy to be home again, although we would have stayed a little longer if it was possible, but it turned out this way, and we are very happy about a welcome like this and we hope that this is just the beginning."
Hungary's supporters have had lots to cheer about during their spell in the tournament in France including the team being part of arguably one of the best matches so far – their draw with Portugal. Sadly they went out to Belgium in the next round.
Budapest celebrating #Euro2016 qualification. Football lives again in #Hungarypic.twitter.com/UTxZez4f9z

— Radoje Lausevic (@rlausevic) June 22, 2016
One fan said, "We had expectations but the guys did so much more… It was just perfect like this."
"Why I wanted my little daughter to celebrate with us on the streets is that this is something that rarely happens in Hungary, or has rarely happened so far, we hope that it will happen much often from now on," said another holding his daughters hand,
Our reporter in Budapest, Andrea Hajagos reflected on the up beat atmosphere and the way most people had put current political concerns to one side for a change, focusing only on football.
"In the last two weeks something has changed in Hungary with the country coming together. Now the team has asked the supporters to preserve the enthusiastic spirit and not to let it last for only 2 weeks."