How to get an Irish passport and avoid Brexit
Comments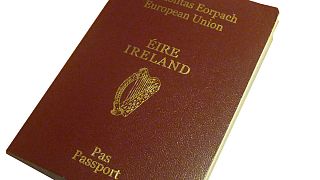 Since the referendum outcome to leave the EU was announced, people in the UK have been searching for ways to get an Irish passport and keep their EU rights.
Google Trends found searches for 'Irish passport' increased just after the Brexit results were confirmed.
The majority of searches came from Northern Ireland where the Irish Department of Foreign Affairs (DFA) and the Post Office reported an "unusually high number of people" seeking passport applications. Reuters also reported that Ireland's embassy in London had received some 4,000 passport enquiries, 20 times the normal daily amount.
According to the Irish Department of Foreign Affairs and Tradeyou are entitled to Irish citizenship if:
You were born in Ireland before January 2005
You have a parent or parents born in Ireland
You have a grandparent or grandparents born in Ireland
Your parent or parents were Irish citizens at the time of your birth, even if they were not born in Ireland
The 2011 Census of England and Wales and the 2011 Census of Scotland show that there are 43,000 Irish-born people living in Britain. Estimates for the number of second and third generation Irish people vary but the DFA claims one in four people in Britain have Irish heritage and some 6 million of those are thought to be eligible for a passport.
So what should you do if you are thinking about applying for Irish citizenship?
You can read these

FAQ

s on the

DFA

website
You cannot apply online but you can get more information about your rights and find your nearest embassy at dfa.ie
You can also contact the Irish passport service on Twitter (they are quite reactive) @PassportIRL
In a statement, Ireland's Minister for Foreign Affairs and Trade stressed that there was plenty of time before any eventual changes: "The UK is not leaving the EU immediately and that all arrangements, rights and facilities linked to EU membership still apply in full. A negotiation process will get underway and will take a minimum of two years prior to a UK exit. During that time the UK remains an EU member state and participating in the workings of the Union."
So here's where we're at. This is the central post office in Belfast #brexit#EURefResultspic.twitter.com/YiZsSID3kU

— Sarah (@Saraita101) 25 juin 2016