Obama stands by 'back of queue' warning on post-Brexit UK trade deal
Comments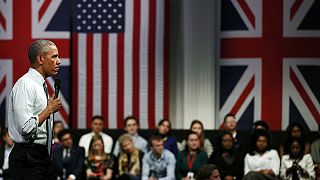 President Obama has stood by his comment that Britain will move to the back of the queue post-Brexit when it comes to trade deals with the United States.
The president urged the UK to remain in the EU when he visited London in April and warned that a trade agreement between the two countries would not happen anytime soon if Britain left the bloc.
"Obviously, the president stands by what he said and I don't have an update of our position," White House spokesman Eric Schultz said on Friday.
The divorce between the UK and the EU could sink hopes of a massive US-EU free trade deal before Obama leaves office next January.
Growing anti-trade sentiment and other factors mean negotiations on the so-called TTIP deal have already stalled.
Obama said on Friday the EU would remain one of America's "indispensable partners" – and the US's "special relationship" with Britain would continue.
The ratings agency Moody's has lowered the outlook for the UK's credit rating from stable to negative because of the prolonged period of political uncertainty ahead.