Scotland, London and teenagers speak out against Brexit
Comments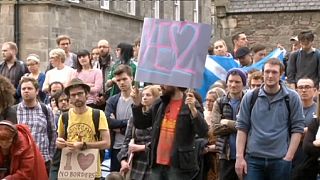 Edinburgh voted three-to-one in favour of remaining in the EU and was keen to ensure the world understood its position. Hundreds of protesters gathered outside the Scottish parliament and in Glasgow on Friday (June 24) to rally against the racism they say dominated the referendum campaign.
George Sq protest becoming busy. #Brexitpic.twitter.com/lzBb3YQ9QU

— Laura Waddell (@lauraewaddell) June 24, 2016
London, which also voted overwhelmingly against a Brexit from the bloc held a similar demonstration.
#NoBorders protest winds through London after #Brexit vote https://t.co/RSDPfgvMbzpic.twitter.com/3iWSjxXpow

— YouTube Newswire (@ytnewswire) June 24, 2016
The march started in Whitechapel and moved through England's capital to the Southwark headquarters of Rupert and James Murdoch's News UK group of papers. In the run-up to the referendum, the publisher's newspapers were split in their views, with tabloid The Sun and The Sunday Times coming out in favour of Brexit, while broadsheet The Times was in favour of remaining in the EU.
Younger voters
Anger about campaigning ahead of the vote and the outcome were in evidence, but another issue was also on the table.
A number of 16 and 17-year-olds took to the streets, keen to express their frustration at not being able to vote. In Scotland's 2015 referendum on separation from the UK, the minimum age for voters was lowered to 16 from 18. However, in Thursday's (June 23, 2016) EU ballot, it was set once more at 18. MPs who opposed the move in the House of Commons said lowering the age limit would cost an extra six million pounds.
A YouGov poll released after the result of the vote was announced suggested an overwhelming 75 percent of the youngest voters (18 to 24-year-olds) opted for staying in the EU, while just 39 percent of 65s and over shared the sentiment. Older voters, it appears, swung the result in favour of Brexit.
HOW AGES VOTED
(YouGov poll)
18-24: 75% Remain
25-49: 56% Remain
50-64: 44% Remain
65+: 39% Remain#EUref

— Ben Riley-Smith (@benrileysmith) June 23, 2016
In the spirit of democracy, at least two online petitions were also organised. One called for London's independence from the UK, while the other called for a second referendum on EU membership. Each exceeded the 100,000 signatures needed for parliament to consider them for a debate.