Massive petition calls for EU referendum re-run
Comments
By
Euronews
with
REUTERS, GUARDIAN, POLITICO.EU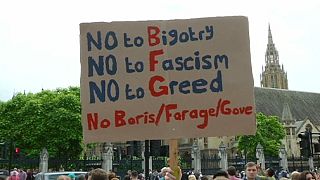 The recriminations are mounting in EU friendly London over Britain's bombshell vote to leave the bloc. Outside parliament dozens of protesters gathered to voice their anger and dismay.
Nearly 60 percent of the vote in London went to the remain camp and only five out of the capital's 33 boroughs voted to leave.
The number of protesters outside parliament was however dwarfed by the numbers protesting online.
A petition to parliament calling for a second referendum to be held had gathered nearly one point eight million votes by Saturday afternoon.
On Scotland there were also calls for a second vote – not on membership of the EU, but on independence from Britain.
Scotland's first minister Nicola Sturgeon said the necessary legislation would be drawn up in Scotland to prepare for it but ultimately it is up to London to decide if and when it gets a second chance.
But before then she wants her country to negotiate its own relationship with the EU, now that Britain has left it.
"Cabinet agreed that we will seek to enter into immediate discussions with the EU institutions and with other EU member states to explore all possible options to protect Scotland's place in the EU," she told reporters in Edinburgh after meeting her cabinet.
The first minister also disclosed that she is to invite all EU diplomats based in Scotland to a summit at her official residence in Edinburgh within the next two weeks, in a bid to sidestep the UK government.
Scotland voted 62 percent to 38 to remain in the EU, in contrast to the narrow Brexit victory of 52 percent to 48.