EU foreign ministers demand quick divorce from Britain
Comments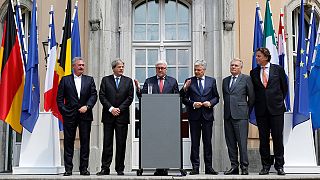 Foreign ministers from the six founding members of the EU have hurriedly assembled in Berlin and urged Britain to divorce the EU quickly.
We must not resort to hectic activity

German Foreign Minister
British prime minister David Cameron said hours after the referendum result on Thursday that he will resign and let his successor negotiate the divorce arrangements.
He suggested his replacement would be in place by October. That person could be his Conservative Party rival Boris Johnson, the former London mayor who became the most recognizable face of the Leave camp and who is now favourite to succeed him.
"Of course a new prime minister must be appointed, that will probably require a few days but this is quite urgent," French foreign minister Jean Marc Ayrault said.
Brexit is the biggest blow to the EU's project of forging greater unity so far and, unsurprisingly, Germany's foreign minister appealed for calm.
"We must not resort to hectic activity, and act as if all the answers are ready. But after the British decision we mustn't lapse into depression and inactivity," Frank-Walter Steinmeier said.
The Dutch foreign minister called for a speedy exit and warned of the danger of a political vacuum. "This will not be business as usual," Didier Reynders said.
Dangers of more break ups in Europe may be on the horizon too.
The nationalist leader of Scotland, where nearly two-thirds of voters wanted to stay in the EU, has said a new referendum on independence from the rest of Britain was "highly likely".
Scottish government ministers were meeting on Saturday to decide their next move.
German Chancellor Angela Merkel will meet French, German and Italian leaders in Berlin on Monday to discuss Britain's divorce arrangements.