Britain's European Commissioner Jonathan Hill resigns after Brexit vote
Comments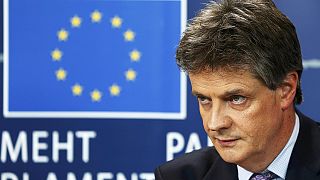 Britain's representative on the EU's executive body, the Commission, is resigning following the referendum vote for Brexit.
Jonathan Hill, the Commissioner for Financial Services and Britain's most senior diplomat in Brussels, was appointed by David Cameron and had campaigned for the UK to stay in the EU.
His decision was widely expected, and he seems to agree with many European politicians who feel it would be inappropriate for a Briton to be overseeing the bloc's financial stability with the UK on the way out.
In light of the referendum outcome, it's right for me to stand down https://t.co/zAt9rsNUz0

— Jonathan Hill (@JHillEU) June 25, 2016
In his statement Hill said although he had campaigned against the euro and was sceptical about Europe, he thought EU membership was good for Britain and couldn't carry on as if nothing had happened.
Hill says he will stay on for now for now to ensure an orderly handover.
His replacement was announced by Commission President Jean-Claude Juncker on Saturday: the Commission Vice-President Valdis Dombrovskis – former prime minister of eurozone member Latvia.
Statement on JHillEU</a> resignation from <a href="https://twitter.com/EU_Commission">EU_Commission and my intention to transfer his portfolio to VDombrovskis</a> : <a href="https://t.co/a2tt0Ym159">https://t.co/a2tt0Ym159</a></p>&mdash; Jean-Claude Juncker (JunckerEU) June 25, 2016
Britain will still be able to nominate a new commissioner for the time it remains in the EU. That person's portfolio will be determined by Juncker in consultation with the British government – possibly the successor of Prime Minister David Cameron, who announced his own resignation on Friday.