Calls for referendums in Scotland and Northern Ireland after Brexit vote
Comments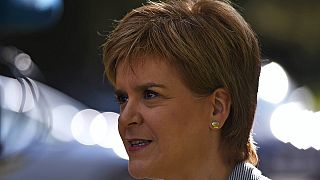 Scotland voted strongly in favour of staying in the European Union, by 62 percent in favour of "Remain" to 38 percent who opted for "Leave".
First Minister Nicola Sturgeon of the Scottish National Party (SNP) said a second referendum on independence was "highly likely".
"I want to make it absolutely clear today that I intend to take all possible steps and explore all options to give effect to how people in Scotland voted. In other words, to secure our continuing place in the EU and in the single market in particular (…) There are many people who voted against independence in 2014 who are today reassessing their decision. Indeed, a very large number of them have contacted me already," she said.
Northern Ireland also voted to stay in the EU by a lesser majority of almost 56 percent, to just under 44 percent for "Leave".
There too there are calls for a referendum on unification with the Irish Republic, which is in the EU.
"Well I do believe that given the vote that has been taken by English voters effectively dragging ourselves and Scotland out of the European Union, that we do have a right to test opinion," said Northern Ireland's Deputy First Minister, Martin McGuinness.
It's uncertain how the relationship between a non-EU Northern Ireland and the Republic will be affected – particularly concerning arrangements for the border.
There's been speculation that after Brexit, a physical border with passport checks may be set up along what will be the UK's only land border with the EU.
Following the Troubles conflict, the region received EU funds linked to the peace process.