Euro 2016: Hungary celebrates team success
Comments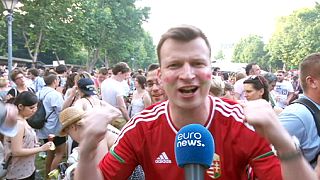 Thousand of Hungarians filled Freedom Square in central Budapest on Wednesday (June 22) to watch their team force Portugal to play catch-up three times producing an exciting 3 – 3 draw.
I have never seen Budapest so joyful and enthusiastic before
It's been described as the best match of the Euro 2016 championships so far, particularly as it involved dark horses Hungary.
Time to celebrate, BelRedDevils</a>. Next up: Hungary.<a href="https://twitter.com/hashtag/EURO2016?src=hash">#EURO2016</a> <a href="https://t.co/rO5vP9FUfX">pic.twitter.com/rO5vP9FUfX</a></p>&mdash; UEFA EURO 2016 (UEFAEURO) June 22, 2016
Playing in their first major tournament in 44 years, few had great expectations for the team but now they have made their mark, ending up top of Group F.
Despite being denied a win their fans were jubilant:
"We qualified as first in our group, it was amazing that we could get to Euro 2016 in the first place . . we are now going to beat everyone."
"From this football-craze what's most interesting for me is that I have never seen Budapest so joyful and enthusiastic before."
"It's fantastic, unbelievable. Not once, not twice, we could score three times, and not against just anybody, but the Portugal team."
Come on ! 3 points & qualified for the round of 16 ! 26/6 vs Hungary in Toulouse. #swebel#tousenfrance#EURO2016pic.twitter.com/Nc7POqcFH2

— BelgianRedDevils (@BelRedDevils) June 22, 2016
Our reporter Beatrix Asboth was in Freedom Square and joined in the celebrations:
"The Hungarian national team fought hard during the group stage which is as important as qualifying for the last 16. That is why they have united the nation, that is why millions watched the matches, and that is why tens of thousands travelled to France to cheer for the Hungarian team."