Highs and lows of Euro 2016 would-be qualifiers
Comments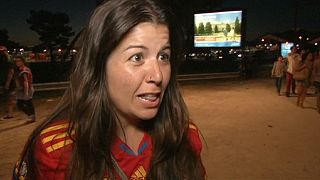 Cheers as well as tears as the group stages of Euro 2016 near completion. Some teams have got through to the knockout stage with little trouble, others by the skins of their teeth.
One Spanish supporter said she was a bit disappointed after seeing her side lose 2 – 1 to Croatia but hoped Spain will go on to win the tournament.
It's a sea of joy for Croatian fans at #EURO2016, ENJOY, ENJOY, ENJOYpic.twitter.com/wNn0GjXAlI

—

XHS

ports (@XHSports) June 22, 2016
Turkey's 2 – 0 win over the Czech Republic gives them a chance of qualifying if they are one of the best third-placed teams.
"Everything is great. We are very lucky. We hope we will eliminate (sic: qualify) for the next round so we are very happy."
Who's the BESTDRESSED fan at #EURO2016 to your viewpoint pic.twitter.com/loODaFTE10

—

XHS

ports (@XHSports) June 22, 2016
Poland has definitely got through – it's a first for them to get to the knockout stages of a big tournament after their win over Ukraine….much to the bemusement of one Ukrainian fan.
"We underestimated our rivals, or maybe it was the wrong tactics. It's not understandable. It's just not our Euro."
Meanwhile Northern Ireland – in their first appearance at a first major tournament since 1986 were outclassed by world cup champions Germany going down 1-0
"Northern Ireland did not have a chance to make a goal, and the defence was (Mats) Hummels and (Jerome) Boateng are very perfect," said a happy Germany supporter.
But all was not lost for the hundreds of fans in Green -they have made it through to the last 16 as one of those lucky third placed teams.
#GAWA danced through the boulevards of Paris after #NIR made it into the top 16 of Euro 2016https://t.co/z6ei2KyyDspic.twitter.com/GMpHh4IthC

— Belfast Telegraph (@BelTel) June 21, 2016