Jordan vows to respond 'with an iron fist' to border attack
Comments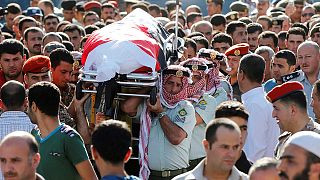 The funeral has taken place of one of six Jordanian border guards killed by a suicide bomber on Tuesday.
The attacker drove a car at speed from neighbouring Syria and rammed into a military post.
It is not yet clear who carried out the assault, but the jihadist group ISIL has threatened in the past to "break down" Jordan's borders.
The father of the first victim to be buried condemned the attackers:
"(They) don't belong to Islam at all because if they have Islam they would not have done what they are doing, slaughtering people, suicide attackers, things like that. Also in Ramadan, if they know God they would not have killed a cat, let alone a human being. May God hold them to account."
The attack site was near the Rukban camp were more 50,000 Syrian refugees are stranded living in deplorable conditions while awaiting entry to Jordan.
On the Syrian side of the border it is a desert area close to where ISIL militants are known to operate according to an anonymous security source. He also said it appeared to be a well planned military operation.
Iron fist
Jordan's King Abdullah held an emergency cabinet meeting on Tuesday vowing to respond with an iron fist against the perpetrators.
In a rare move, Jordan's military chief of staff has declared the northern and northeastern border strip with Syria a closed military zone.
The attack was the first of its kind on Jordan since the conflict in Syria began in 2011. However the country was once before united in grief after the murder of one of its military pilots after being captured by ISIL militants.
Jordan is part of the US-led coalition against ISIL and has carried out air strikes on militants in Syria. It is also a staunch ally of the United States and has received tens of millions of dollars to help set up an elaborate surveillance system known as the "border Security Programme" to stem infiltration by militants from Syria and Iraq.