Bush fires rage amid brutal heatwave in southern California
Comments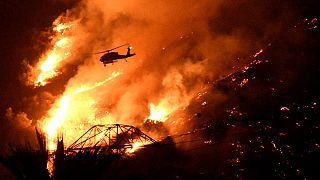 Two fast-moving bush fires rage amid a brutal heatwave in the US state of California.
Smoke rises from the San Gabriel Mountains behind Los Angeles as the fires spread through hundreds of acres of brush.
Firefighters work to prevent damage to power lines located on hilltops.
The first of the fires in the Azusa area was sparked by a car crash.
Just a few hours later it has spread to more than three square kilometers.
The second fire started burning a short distance away in the Duarte area. The flames are a lot closer to homes than the first.
Hundreds of residents have been moved to safety but authorities say if the wind changes direction, the situation may become a lot worse.
The cause of the second fire is not yet known.