Turkish police stop Istanbul gay pride event with tear gas and plastic bullets
Comments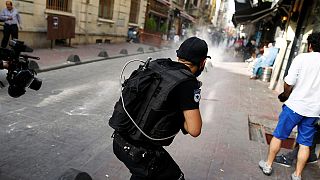 Turkish police used tear gas and plastic bullets to disperse demonstrators who gathered for a gay pride rally in Istanbul in defiance of a government ban.
The city's governor had cited security concerns in preventing two annual parades from happening this year.
Earlier this week an ultra-nationalist youth group vowed to stop the march if it went ahead, calling the event immoral.
Dozens of people gathered in support of the LGBT parade just off a major commercial street.
Police called on them to disperse and prevented activists from marching or making statements.
On Friday Istanbul's authorities said a parade planned for next week would be banned.
Security is tight after several bombings in recent months, blamed on Kurdish militants and the self-styled Islamic State group.
But organisers denounced the ban as a "flagrant violation of the constitution and the law". Last year police fired water cannon at a gay pride event.
There was a small homophobic protest on Sunday. Anti-gay sentiment remains widespread in Turkey although homosexuality is not a crime.