Turkish riot police disperse protesters after attack on Radiohead fans
Comments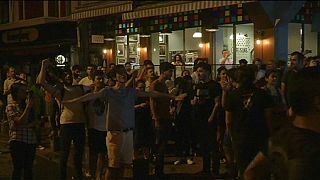 Police in Istanbul fired tear gas, rubber pellet and water cannon on Saturday (June 18) to disperse protesters that gathered, angered by an attack the previous night on a record store that was celebrating the launch of the album of Radiohead.
A group of men, armed with sticks and bottles, raided the store late on Friday (June 17), apparently in protest that people drinking beer in the holy month of Ramadan, video footage posted on social media showed.
Riot police intervened to disperse protestors chanting "Time will come when the tide will turn and the AK Party will be called into account," in the Cihangir neighbourhood of Istanbul, a district of coffee shops and bars, close to the central Taksim Square.
Although Turkey is constitutionally secular, the overwhelming majority of the population is Muslim. Many, like President Tayyip Erdogan, are pious Muslims who shun alcohol.
Under the AK Party founded by Erdogan, Turkey has banned alcohol advertising and tightened restrictions on its sale, to the ire of many secularists, who say they are increasingly finding themselves having to adapt to stricter Muslim values.
Radiohead statement
"Our hearts go out to those attacked tonight at Velvet IndieGround in Istanbul. We hope that someday we will be able to look back on such acts of violent intolerance as things of the ancient past. For now, we can only offer our fans in Istanbul our love and support," Radiohead said in a statement following the attack.
Raw video of Islamists attacking Radiohead record release party in Istanbul last nighthttps://t.co/6KNRNcaVBY#Turkey#Istanbul#Beyoglu

— Ivan Watson (@IvanCNN) June 18, 2016
Wow. This photo of one of the radiohead</a> fans attacked by pipe-wielding Turkish religious enforcers in Istanbul. <a href="https://t.co/MhJr9MugOl">pic.twitter.com/MhJr9MugOl</a></p>&mdash; Borzou Daragahi (borzou) June 18, 2016
Reuters