Hungary goes football-crazy for Euro 2016
Comments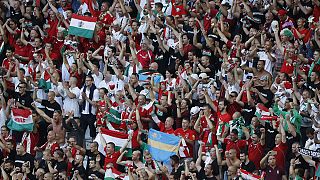 Hungary's national football team finished forth in the 1972 European championship and haven't done much internationally since then. Now they're in France and that may be about to change.
In Budapest, fans anticipate Hungary getting to the knockout stages after a one-all draw against Iceland on Saturday.
"I think we had a strong opponent [Iceland]. After the euphoria of the match against Austria, the equal with Iceland is a bit disappointment, but it was great to see so many people together and cheer with them," said one fan.
"It's so cool here, it's just our second day here and we like the atmosphere, people are crazy," said a Turkish tourist.
Euronews correspondent Beatrix Asboth reported:
"As people around me show, football, can build communities. After decades of failure, few people bothered with football in Hungary. But after 44 years, the national team are back in the European Championship.
"Those who haven't paid attention
to the national team over the last few years are now glued to their TVs or in fanzones."