Key trial hearing adjourned in Tunisia
Comments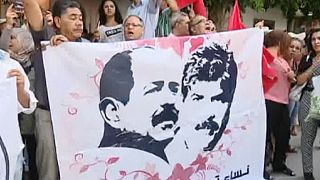 Trial adjourned until October
Protests outside the court
"We will continue to fight" – Belaid's supporters
"Our children are scapegoats" – mother of accused

What is happening?
The trial of 24 Tunisians accused of involvement in the 2013 murder of a prominent opposition figure has been adjourned until October.
A spokesperson for the court told reporters a hearing has been set for the 28th.
Why has the trial been adjourned?
The judge decided to end Thursday's hearing after three hours of angry debate between defence lawyers and the civil prosecution team of Chokri Belaid.
Who was Chokri Belaid?
L'enquête sur le meurtre de Chokri Belaïd mise en cause en Tunisie https://t.co/S39jc5yUyn#Tunisiepic.twitter.com/7FAVPBHudS

— AllAfrica Fr (@AllAfricafrench) June 17, 2016
48-years-old
Outspoken critic of Ennahda, the Islamist party in power in Tunisia at the time.
Shot dead on his own doorstep on 6 February, 2013

Why is his death significant?
Belaid's murder shocked the country and led to a serious political crisis.
The authorities said the killing was the work of a jihadist movement. A year later, they announced that the suspected murderer, Kamel Gadhgadhi, had been killed.
The killing was also claimed by jihadists linked to ISIL, along with that of another opposition figure, the deputy Mohamed Brahimi, in July 2013.
The Belaid family continue to talk of "shadowy areas" and say they want "the truth".
Who are the accused?
24 accused
23 are in custody
More than half refused to appear at Friday's hearing.

What did the lawyers say?
Belaid's civil prosecution team are happy with the decision.
They say they are gathering more evidence for the inquiry.
Relatives of the accused have denounced what they say is "political and media pressure" on the hearing.
Demonstrations outside
Meurtre de Chokri Belaïd en Tunisie: la loyauté de l'enquête mise en cause https://t.co/KUbl6cV4t7pic.twitter.com/U6t1UTnM42

—

RFI

(@RFI) June 17, 2016
Around 300 people gathered outside the court to protest, answering a call from Belaid's party, the Popular Front (Front Populaire)
What they chanted
"Faithful to the blood of the martyrs"
"Rest in peace, Chokri, we will continue the fight!"
"Béji and Ghannouchi, you are the enemies of the martyrs!"
"The people want an independent judiciary!"
Rached Ghannouchi is the head of the Ennahda party; Béji Caïd Essebsi is the Tunisian president.
Some of the demonstrators managed to get into the courthouse.
What they are saying
"Our children are being treated like scapegoats," – Mounira, the mother of one of the accused.
"It is now three years since this case was opened and there has been no result. There is a political will to prevent it from progressing," -*Ammar Amrousia* from the Popular Front tells reporters.
"There is pressure for the truth not to be revealed and those reponsible not to be brought to justice," – Hamma Hammari, leader of the Popular Front.