Two-day pause in fighting comes into effect in Aleppo
Comments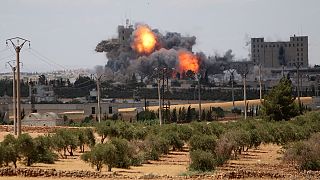 In Syria, a two-day pause in fighting has come into effect in Aleppo.
The battle for the northern city between Russian-backed Syrian government forces and rebel groups has left hundreds dead.
Despite the temporary ceasefire, the UN on Thursday once again repeated its call for a more lasting end to the hostilities.
" I hope and pray that it is extended and that the people of Aleppo can get the respite that they need now, and we can get aid to them. We're going to Afreen today, that's 50,000 people, and that's an area north of Aleppo that hasn't had help for a very long time," said Jan Egeland, the UN's Humanitarian Envoy to Syria.
The latest plea for a more lasting peace came after Damascus accused Berlin of sending special forces to Kobani and Manbij in Northern Syria to work alongside French and US military personnel.
A coalition of Kurdish and Syrian Arab militias backed by Washington recently launched an offensive against ISIL in the region.
Germany has strongly denied the claim by Bashar al-Assad's government that it is helping in the operation.