Obama and Biden to visit Orlando, amid growing calls for tighter US gun control
Comments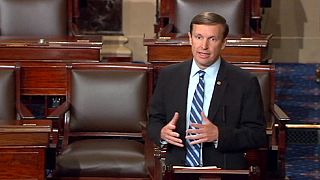 US President Barack Obama and Vice President Joe Biden are set to visit Orlando on Thursday, in the wake of the worst mass shooting in modern US history.
I refuse to give up, we refuse to give up
Gunman Omar Mateen opened fire at the Pulse nightclub in the early hours of Sunday, killing 49 people and wounding dozens more.
Obama and Biden have long advocated a ban on assault rifles.
"I refuse to give up, we refuse to give up, it took me seven years to get the first ban put in place. There is no reason why we should ever stop. We should not stop," Biden said on Wednesday.
Also on Wednesday, US Democratic Senator Christ Murphy led a filibuster into the night, calling for Republicans to agree to a vote on gun control reforms.
The filibuster blocked the Senate floor for more than 14 hours.
I am proud to announce that after 14+ hours on the floor, we will have a vote on closing the terror gap & universal background checks

— Chris Murphy (@ChrisMurphyCT) June 16, 2016
Gunman Omar Mateen used a AR-15-type assault rifle to carry out the Orlando massacre.
Mateen bought his weapons legally at a Florida shooting centre. He passed a full background check, according to the store owner.