Australian MP defends mock shooting ad
Comments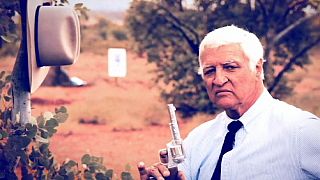 There's no such thing as bad publicity, the saying goes. But one Australian lawmaker has come under fire for the bad timing of his new campaign video – a mock execution of his political opponents showing him blowing a smoking gun, as lifeless bodies lie in the background.
The Orlando shooting was on a lot of people's minds this week, but it didn't hit Bob Katter, a maverick MP defending rural Australia. Amid calls to take down the clip, he said on national television he simply was not aware of the Orlando tragedy.
"I get in every night at midnight… and I do not read the newspapers, haven't read the newspapers in ages," Katter told Network Seven's Sunrise program on Thursday (June 16).
He also slammed what he called a "political correctness brigade" and said Australians should keep a sense of humour.