Brexit: How the economic arguments stand up with two businesses
Comments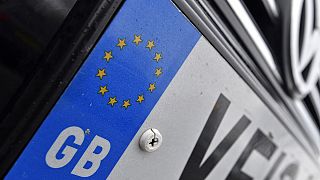 The economy – it's become one of the main battlegrounds in the run-up to the UK's referendum on EU membership.
The British Hovercraft Company is a family-run enterprise, employing 15 workers in the town of Sandwich, in southeast England.
The boss wants out of the EU – saying it's a union of hot air, one that brings no benefits for business.
"As a small business, we struggle with a lot of the EU directives and rules and regulations out there. There are ones specific to our business, as well as just general small businesses. We also have a massive problem when we want to trade with countries outside of the EU, such as Brazil.
'There is no trade agreement currently with the EU and Brazil and, therefore, it's very, very difficult for us to do any business with them because the tariffs are so high," Emma Pullen, the company's Managing Director told Euronews.
Around 80 percent of the hovercraft made at the company are exported, with the vast majority going to non-EU countries.
A sales picture blamed, in part, on red tape.
"On the other side of the debate, there are big voices in the business community, including here in London, who want Britain to stay part of the EU. They say membership makes it easier to trade – and to move workers, money and goods," reported Euronews's correspondent.
Scoota helps design and target digital adverts. It uses the latest technology to identify up to 22 billion potential advertising spots a day – with campaigns across Europe and beyond.
Co-founder Torie Chilcott fears a Brexit would destroy London's tech status. There's a compelling business case, she says, for the UK to remain an EU member.
"We need big European talent movement right across the continent. Second of all, I would say that international feel to what we're doing. Development is all about pulling things from different places in the world. Thirdly, is venture capital. Venture capital loves London, it's disruptive, it's a great hub.
'If we are looking at what happens next, there is no real exploration to that. So we could lose out to Berlin, or Lisbon, or Dublin as a tech city in Europe and I don't think we should," she explained.
Scoota is setting its sights on almost doubling its revenue this year to nine million pounds that's around 11.3 million euros. But one expert predicts turbulence ahead for the UK economy, if there's a Brexit.
"If there is a vote in favour of Brexit, there would be an immediate impact on the financial markets, with quite some turmoil. Though I think they are better prepared, including the regulatory authority, than in 2008 (global financial crisis). The effects on the real economy, on businesses in the UK, will come more slowly, but probably even heavier for the next two, three, four years, with this degree of uncertainty, what the future relationship will be, between the EU and the UK, than outside the EU. And that will definitely dampen investment and growth," opined Thorsten Beck, Professor of Banking and Finance, City University, London.
But, amid the conflicting arguments, there are lots of questions about what a "Brexit" would actually mean in real terms.
"Look, leaving the EU on the 24th, my whole world is not going to change. I'm more than aware of that. This is a long-term goal. And the EU is, I believe, in massive problems, it's having massive difficulties throughout Europe and it's causing various different countries issues. I believe the EU hasn't worked as everybody would hope it would work," said Emma Pullen, Managing Director, British Hovercraft Company.
"I'm hearing an awful lot about how the UK is going to pull out, but I'm not hearing about what's going to happen in terms of new legislation, how long it's takes to bring that in. And, you know, that can take several years to implement. I don't hear enough and I don't trust enough about what is potentially coming the other side of Brexit," concluded Torie Chilcott, Co-Founder, Scoota.
Which side of the economic debate will win over the most voters?
The future of Britain's role in the EU is now in their hands.