Spain's party leaders fight for votes in TV debate
Comments
By
Euronews
with
Financial Times, Reuters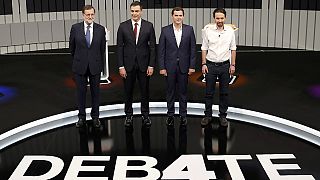 For the first time the leaders of four political parties have taken part in a televised debate before Spain's June 26 election. Normally the preserve of just two main parties – the Popular party (PP)and the Socialists (PSOE) – the rise to the country's newest kids on the political block, Podemos and Ciudadanos were included.
In the two-hours, acting prime minister Mariano Rajoy, leader of the centre-right Popular party was criticised for his handling of corruption scandals and for Spain's unemployment problems.
Socialist leader Pedro Sanchez spent his time defending his party's position as the established opposition while attacking Pablo Iglesia, the leader of the anti-establishment Podemos party.
The rise of Podemos and the centrist Ciudadanos under Albert Rivera, shows how big a political shift Spain has made in recent years. Both are expected to force a four-way split in the election. Rajoy is forecast to win once again no party will achieve a majority, recreating the current impasse.
According to a survey by Metroscopia, published in El País, the PP is on course to win 28.9 percent, the Socialists 20.8 percent and Ciudadanos 15.9 percent. Podemos which is running with the United Left party on a new list called Unidos Podemos (United We Can), is predicted to push the Socialists from second place and win as much as 25.4 percent.
However this time round, all four leaders have pledged themselves not to allow the country to be pushed into a third election and come what may a government will be formed.