Ex-Italian PM Berlusconi undergoes heart surgery
Comments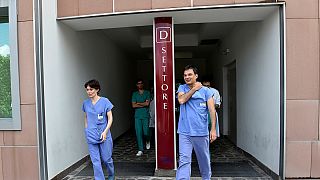 Former Italian premier Silvio Berlusconi has undergone surgery to replace a faulty heart valve.
Family and friends said nothing as they visited the media mogul in hospital in Milan, but the operation is reported to have gone well.
Berlusconi was admitted earlier this month, after suffering from what his personal doctor said was a life-threatening condition.
The 79-year-old is expected to remain in intensive care for another 48-hours.
"The operation to replace the aortic valve for Silvio Berlusconi has just finished. The operation lasted about four hours and the patient has been transferred to intensive care under the control of Professor Zangrillo," San Raffael hosptal spokeswoman Vittoria Cereseto said.
Once a major force in Italian politics, Berlusconi has seen his influence wane since his coalition lost power in 2011 and his convictions for tax fraud and bribery.