Canada PM Trudeau condemns 'cold-blooded' killing of hostage in Philippines
Comments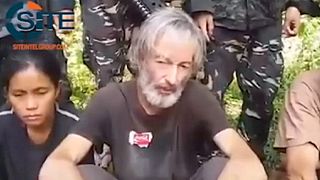 Canada believes its hostage Robert Hall – held for months by Islamist militants in the Philippines – has been killed by his captors.
Intelligence reports from the region suggest that Hall was beheaded by the Abu Sayyaf group on the remote, southern island of Jolo, just 10 minutes after a ransom deadline for milions of dollars expired.
Condemning a 'cold blooded and senseless' act, Canadian Prime Minister Justin Trudeau issued a statement about the likely murder and reiterated a policy of refusing to pay ransoms because doing so would endanger the lives of more Canadians.
"The vicious and brutal actions of the hostage-takers have led to a needless death," Trudeau said.
He added that: "terrorist hostage-takings only fuel more violence and instability. Canada will not give into their fear mongering tactics and despicable attitude toward the suffering of others."
Islamist group beheads Canadian hostage https://t.co/4lrxzHf6T7

— The Independent (@Independent) 13 juin 2016
Hall was kidnapped from an upmarket resort on Samal Island in September 2015 alongside a Filipino woman, a Norwegian man and fellow Canadian, John Ridsdel. Former mining executive Ridsdel was killed by Abu Sayyaf in April.
Abu Sayyaf, based in the south of the Philippines, is known for kidnapping, beheadings and extortion.
Security is precarious in the southern Philippines despite a 2014 peace pact between the government and the largest Muslim rebel group that ended 45 years of conflict.