Tension flares amid anti-immigrant march in Vienna
Comments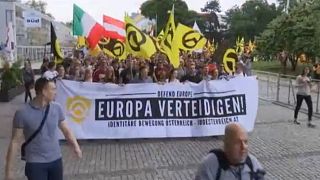 'Defend Europe' was the rallying cry of anti-immigrant, far-right protesters whose march through Vienna on Saturday was contested by left-wing activists with police keeping the two sides apart.
That was easier said than done with around 1,000 participants in each demonstration.
Ugly scenes followed and police resorted to the use of pepper spray as tensions rose. Injuries and arrests were reported.
Europe's migration crisis has heightened public concerns about security and jobs and fuelled a rise in support for far-right political parties in Austria, Germany and other countries.
Austria's anti-immigration Freedom Party (FPO) has just formally contested the result of last month's presidential election, in which its candidate was beaten by a narrow margin.
Austria's far right Freedom party challenges presidential election reults https://t.co/oetDQiF3Na

— The Guardian (@guardian) 8 juin 2016