Syria: Islamic State militants claim deadly attacks near Damascus shrine
Comments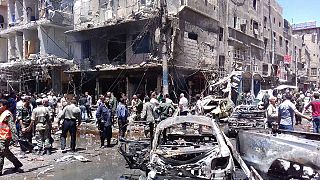 In Syria, the Islamic State militant group says it was behind suicide and car bomb blasts that killed up to 20 people near the country's holiest Shi'ite Muslim shrines in a Damascus suburb.
It's reported at least two suicide bombers blew themselves up while operatives detonated an explosives-laden car.
State television showed the aftermath of the attack on a main commercial thoroughfare.
With around 55 others wounded, many critical, officials say the death toll is certain to rise.
More than 150 people have been killed in at least three bombings close to the Sayeda Zeinab shrine already this year.
The ultra-hardline Sunni militants of IS are sworn enemies of Shia fighters, whom they consider a heretical group within Islam.