Sanders' campaign continues despite Obama's support for Clinton
Comments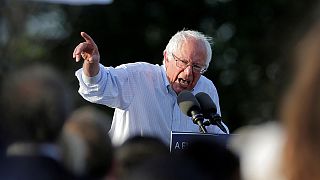 He may have been beaten by Hillary Clinton but Bernie Sanders is still on the campaign trail.
Despite both President Barack Obama and Vice President Joe Biden declaring their support for Clinton, Sanders has only committed to joining his rival in fighting against Donald Trump.
After a series of big losses on Tuesday that made Clinton the presumptive nominee of the Democratic Party, Sanders spoke to supporters in the District of Columbia ahead of the primary there next Tuesday, the last nominating contest of the year
"It would be extraordinary if the people of Washington, our nation's capital, stood up and told the world that they are ready to lead this country into a political revolution," he said.
Sanders failed to even mention Hillary Clinton during his speech. A sign perhaps echoed by his supporters who have mixed feelings about backing her candidacy.
"I myself will be voting for the Green Party candidate come November, if I don't have the opportunity to vote for Bernie Sanders," one man told euronews.
"I will vote for Hillary as a non-vote for Trump, but it is not really a vote for her. I think she has a lot of work to do," chimed a Sanders supporter.
"Any vote for Hillary that I cast is going to be one against Trump. It's not for her, it's against him," said another at the rally.
Our correspondent Stefan Grobe says Sanders is now under increasing pressure from the Democratic establishment end his presidential bid.
"It was likely Sanders' last campaign rally. Earlier, he gave the strongest signals yet that he is ready to bow out of the presidential race – after the DC primary next Tuesday. It would be a win for the Democratic Party in its fight against Trump."