Traditional Muslim funeral service honours Muhammad Ali
Comments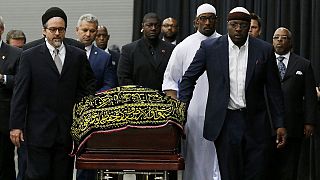 The US city of Louisville has begun a series of ceremonies to celebrate and honour its greatest son, boxing legend Muhammad Ali.
Thousands of mourners and fans gathered at Freedom Hall in Kentucky on Thursday for a traditional Muslim prayer service to pay their final respects to the former fighter.
The venue was the site of Ali's first professional fight.
The 74-year-old died in Phoenix last week from septic shock, complicated by a long battle with Parkinson's disease.
Former manager Don King and civil rights campaigner Jesse Jackson, who were among mourners, praised the boxing great's influence.
"He did what he had to do irrespective and regardless of whatever the challenges and the consequences. And that's why I loved this man more than anything else," King said.
"He used that platform to illuminate the darkness from which he came — racial, segregation, law — to project the future peace, because he chose dignity over dollars. He gave up wealth and risked going to jail," said Jackson.
An interfaith memorial ceremony and procession in Ali's hometown are planned for Friday, with former President Bill Clinton and Turkey's Recep Tayyip Erdogan expected to speak.
A private funeral will then be held at the historic Cave Hill cemetery