Louisville mourns Muhammad Ali with prayer service
Comments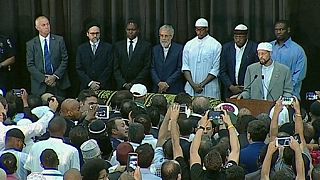 The US city of Louisville has been mourning its greatest son.
Thousands of people gathered at Freedom Hall in the Kentucky city on Thursday for a memorial service to honour boxing great Muhammad Ali.
The venue was the site of the former heavyweight champion's first professional fight.
The traditional Muslim funeral marks the start of two days of tributes to the legendary fighter who died in a Phoenix hospital last week at the age of 74.
The celebration of Ali's life came as his family criticised ticket touts for cashing in on the free services being held in the boxer's hometown. Some tickets have reportedly sold for almost 100 euros.
A final goodbye to the three-time world champion will take place on Friday. Thousands of people are expected to attend that interfaith service, including former US president Bill Clinton, Turkey's Recep Tayyip Erdogan and comedian Billy Crystal.