Death of "The Greatest" - Muhammad Ali passes at the age of 74
Comments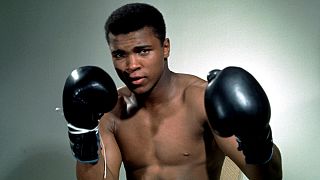 Muhammad Ali has died at the age of 74.
The former world heavyweight boxing champion died in hospital in Phoenix in the US state of Arizona. He was admitted on Thursday.
He had a respiratory illness, a condition complicated by Parkinson's disease.
BREAKING: Family releases statement after boxing champ Muhammad Ali dies at Valley hospital .https://t.co/rZLP5rZzvlpic.twitter.com/F03LoBKiLR

— AZ Family (@azfamily) June 4, 2016
A family statement says Ali's funeral will take place in his home town of Louisville in Kentucky.
Muhammad Ali
Born Cassius Marcellus Clay
1960 – Won light heavyweight gold at the Rome Olympics
1964 – beat Sonny Liston to win his first world title
1964 – 1967 World Heavyweight Champion
1974 – 1978 World Heavyweight Champion
1978 – 1979 World Heavyweight Champion
1981 – retired, having won 56 of his 61 fights
Civil rights
'I Just Wanted to Be Free': The Radical Reverberations of Muhammad Ali https://t.co/cEw3swCX7X

— The Nation (@thenation) June 4, 2016
Ali converted to Islam early in his career.
Muhammad Ali in quotes
Muhammad Ali was noted for his pre- and post-fight talk.
"As a man who never sold out his people. But if that is too much, then just a good boxer. I won't even mind if you don't mention how pretty I was." – Ali on how he would like to be remembered.
"I float like a butterfly, sting like a bee," – Ali describes his fighting style.
Follow live update: