Tel Aviv attack: Ramadan entry permits suspended for thousands of Palestinians
Comments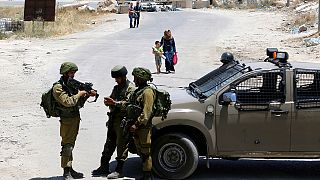 Funerals have begun to take place for the two male and two female Israelis shot dead in Wednesday's attack on an open-air market in Tel Aviv.
Police confirmed the names of those killed as Ilana Nave (39), Mila Mishayev (32), Ido Ben Aryeh (42) and Michael Feige (58).
Two Palestinian cousins are being held in custody in connection with the restaurant shootings, in which at least six people were also injured.
In the wake of the attack, Israel announced the suspension of Ramadan entry permits for up to 83,000 Palestinians, with the exception of those with work authorisations.
Cogat, the Israeli body in charge of managing civilian affairs in the West Bank said visas for some 204 relatives of the suspected attackers had also been halted.
Following the decision, the US State Department made a statement in support of Israel, but asking for the rights of Palestinians to be respected.
"We understand their (Israel's) desire to protect their citizens and to send a message, but we would only urge that any measures that it takes be done with the consideration towards the many innocent Palestinians who are simply trying to go about their daily lives," said Deputy spokesperson, Mark Toner.
There has been no claim of responsibility for the assault, although Islamist group Hamas hailed it as an "heroic attack." The Popular Front for the Liberation of Palestine labelled it a challenge to Israel's new Defence Minister, Avigdor Lieberman.
He confirmed that Israel would begin holding onto the bodies of Palestinian assailants killed while carrying out attacks, rather than returning them to their families for burial. No timeframe was given for the new measure.
#Israël > Avigdor Lieberman ordonne la confiscation des corps d'assaillants tués (porte-parole) pic.twitter.com/8vpTVIXNpi

— iTELE (@itele) June 9, 2016
(
"#Israel – Avigdor Lieberman orders the confiscation of the bodies of attackers who are killed (spokesperson)"
)